October 13th, 2021
4 min read
A Trusty Best Friend and a Pair of Eyes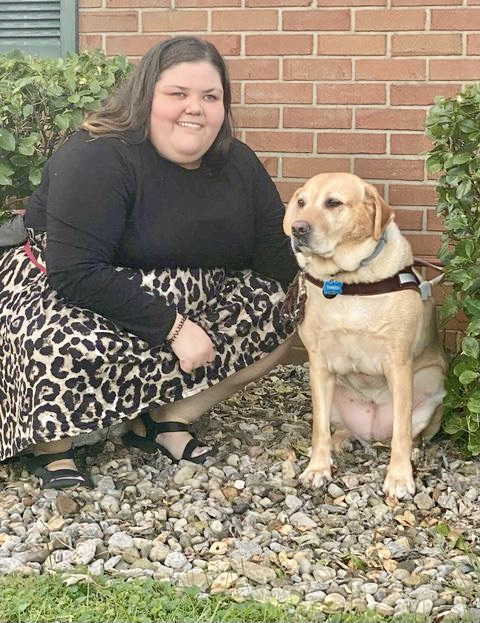 Why are guide dogs so special? Just ask DrueValley: her guide dog, Tweed, is her ultimate best friend who is always by her side.

DrueValley lives in Kentucky and recently graduated from Western Kentucky University. She has Optic Nerve Hypoplasia, an underdevelopment of the optic nerve which restricts her lower peripheral vision and causes blurry vision, making it difficult to see obstacles while walking: "I don't feel comfortable walking because I can't see the ground and my surroundings. At night, I'm basically blind and can't travel alone". This was especially difficult for her in college where clubs and opportunities on campus often occur at night; Her hesitancy to go to these events limited her social life.

Luckily, DrueValley was accepted to get a guide dog from GDB during her senior year. Although she was nervous about getting her first guide dog, meeting Tweed at the San Rafael campus was arguably the best moment in her life so far. "When I met Tweed for the first time, she licked me and we instantly connected," she says. Their strong bond was apparent from their first route, and it was clear they were meant to be a team. "I was amazed that I was able to walk so much faster, I've never felt that much confidence before," says DrueValley. GDB's classes were also an opportunity to socialize with supportive staff and others who have similar experiences as her.
Back home with Tweed, DrueValley's life completely turned around. Unlike using a white cane, Tweed allowed her to walk fast and get to places quicker, faster, and safer. "She's given me the confidence to travel on my own and explore. I've taken trips to coffee shops and banks in the downtown area," she says. DrueValley was surprised by how quickly Tweed learned routes in her neighborhood and on the college campus. She quickly adapted to her routine and remembered her schedule day by day. In addition, they were able to travel around campus at night and attend classes she wouldn't have been able to before, which greatly contributed to her academic endeavors. For DrueValley, Tweed was "both a set of eyes and a safety measure to ensure [she] was safe when alone."

DrueValley's interactions with people also improved. Tweed was easily recognizable and others became more aware about DrueValley's visual impairment. She was also a great ice-breaker when meeting new students at college events or in public. "It was so much easier socially and I wish I had Tweed sooner!"

DrueValley is planning to go into graduate school to pursue a degree in art therapy. She is also looking forward to traveling independently with Tweed, including a visit to the GDB's San Rafael campus that changed her life. "I really love the best friend that they gave me; The transition from college to the real world has been challenging, so having her means the world to me," remarks DrueValley.