November 3rd, 2021
4 min read
How Do You Become a Puppy Raiser Volunteer?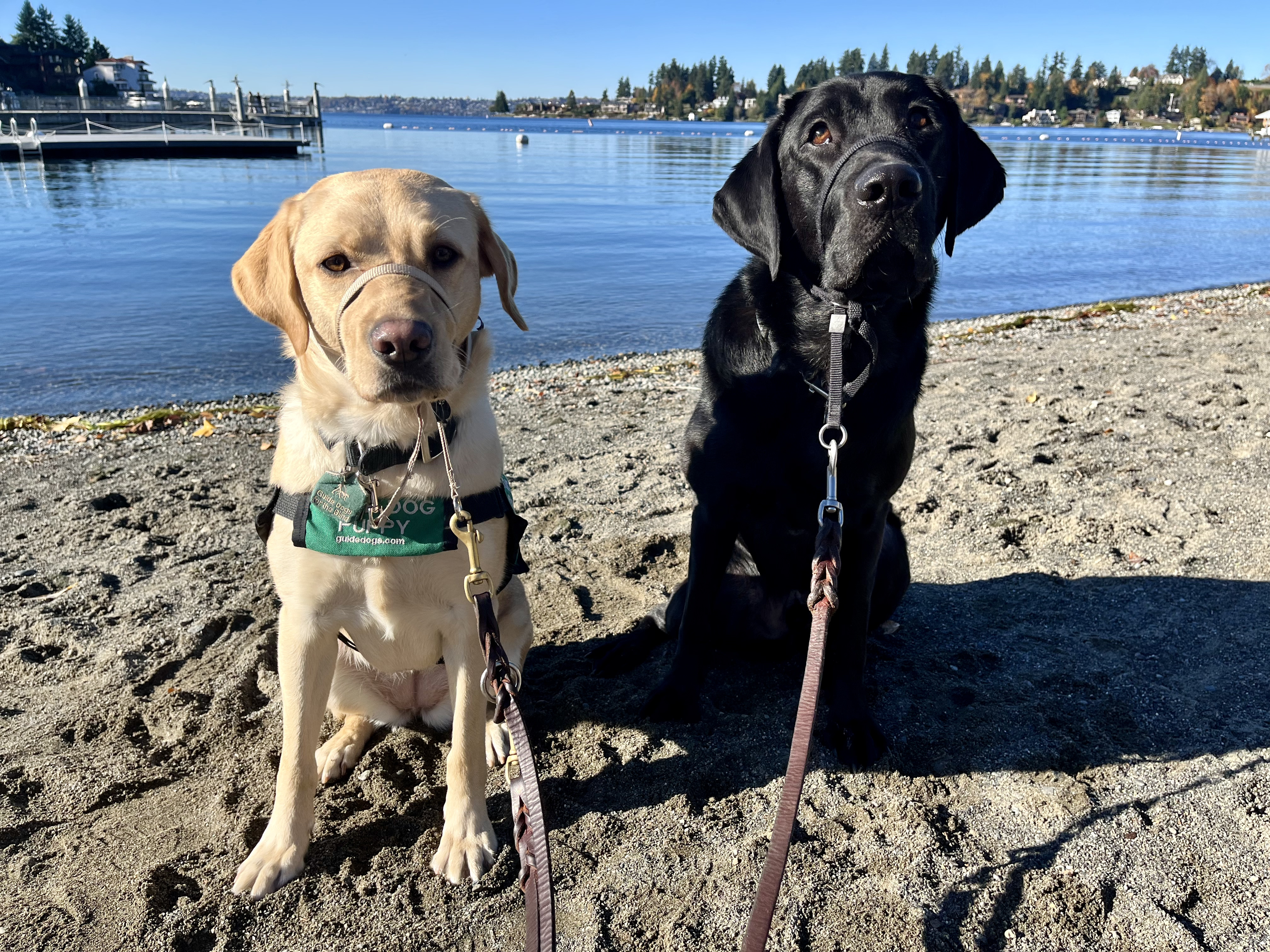 Puppy raising is no easy task. It takes dedication, patience, but most importantly the ability to teach dogs commands, public settling, and other skills that prepare them for formal training and beyond. So how does one become a GDB puppy raiser/sitter?

Becoming a puppy raiser is a combination of learning puppy development techniques, attending frequent club meetings, and having opportunities to handle puppies with confidence. Once a person is interested in becoming a volunteer, they will begin attending their local puppy raising group's meetings to learn the basics of puppy handling and the GDB community. They will attend a minimum of three meetings to work with the club leader(s) and experienced members on skills such as cues/commands, head collar use, walking techniques, and food reward techniques. Remembering all of the concepts can be daunting at first, but working with adorable puppies and a supportive club is a one-of-a-kind experience.

Next, the person can formally request a volunteer application from their club leader. In order for approval, the applicant must have a home visit by club leaders to make sure they have a suitable environment for a puppy, such as a securely fenced yard and a place to put a kennel. Fortunately, a yard is not required for raisers because puppies in training have frequent walks and outings that provide ample exercise. In addition, applicants must demonstrate their knowledge on basic raising techniques learned through a minimum of five days of puppy sitting of the puppies in the club. Puppy sitting will allow the person to get a feel of what raising full time is like.

Of course, these steps can differ on a case by case basis. A person may take more time to learn a particular skill, or need more puppy sitting sessions before fully committing to raising. Many individuals and families may decide to co-raise a puppy with a more experienced puppy raiser or in a way that suits their lifestyles. Co-raising can be beneficial for the development of the puppy because it provides two different handlers and environments for puppies to work in. In any case, the leaders make sure the person is experienced and comfortable to raise.

Many students under the age of 16 also want to become a raiser. Puppy raising is a great way for students to demonstrate responsibility while serving the community. In this case, they will be under the mentorship of a parent or adult mentor. The mentor must also actively participate in training the puppy, and be knowledgeable and supportive of GDB guidelines.

Becoming a puppy raising volunteer for GDB is a significant commitment and can be challenging at times, but is very enjoyable and rewarding. Raising puppies that could become a guide dog to provide enhanced safety, independence, and inclusion for someone who is blind or visually impaired is an opportunity like no other!